Desiccant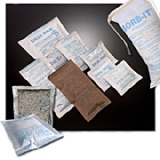 Desiccant bags absorb moisture, odors, and chemicals from the air, preserving and protecting your product.
For use during storage or transit.
Complies with the Mil-D-3464E as tested and qualified by the US Department of the Navy.
Complies with German military specification DIN 55473-B.
Certified for the dry packaging applications for semiconductors.